EXHUMED: THE KIDS with Johnny Depp (1982)
posted Friday Oct 13th, 2023
Did you know actor JOHNNY DEPP was part of the punk/new wave scene in Florida in the early 1980s? Sure enough, Depp and his first band The Kids gigged around Miami & South Florida punk venues in the early-mid 80s before departing for LA and joining the Rock City Angels, one of the later 80s coulda-been contenders. The majorly under-the-radar South Florida punk & new wave scene of the late 70s-80s is covered extensively in the new upcoming book release PUNK UNDER THE SUN - '80s Punk and New Wave In South Florida by Joey Seeman and Chris Potash, shipping next month from Hozac Books.
Check out an exclusive first glimpse at once of the many interesting excerpts from this new book shedding a much-needed light on the non-traditional punk scenes that sprung up in the wake of First Wave punk in the US. Dig in and be sure to get your PRE-ORDER in for this amazing new book!

The Kids, or Kidz as they originally called themselves, rose out of the ashes of the Tight Squeeze scene. Bruce Witkin had been the last bass player of Tight Squeeze (after Teddy Rooney) and was young and ambitious enough to keep going in the local music scene after Tight Squeeze disbanded. Bruce assembled the Kids with himself on bass and vocals, John "Beano" Hanti on drums, and guitarists Mitch Perry and Gio Ardizolla, in 1978. They played at the Tight Squeeze until it closed 1979 and then went on to other venues such as the Agora Ballroom and the Treehouse.
Mitch Perry: I was hitchhiking to the beach and who pulls over? Bruce and Beano! Needless to say, I never made it to the beach that day.
As a band manager, owner of a booking agency, and all-around maternal figure, Sheila Witkin kept various bands and musicians working on the club circuit, providing emotional support as well as steady gigs to the bands in her orbit. Now, with a little help from Sheila—Bruce's mom—the Kids soon found themselves regularly packing the Agora and landing coveted opening slots for bands like Psychedelic Furs, U2, the Pretenders, Iggy Pop, Joan Jett, and even Chuck Berry. Once Mitch Perry left for greener pastures, there was room for a new guitarist: Johnny Depp.
Mitch Perry: I had been telling Johnny I was getting ready to leave the Kids and head to L.A.
Bruce Witkin: Johnny had a little band that was sorta like ours, 'cause he wanted to join our band. We were in the middle of a transition, changing guitar players.
The Kids played an infectious brand of new wave meets power pop. Their live sets were a mix of original songs and crowd-pleasing covers, much like Tight Squeeze before them.
Bruce Witkin: We were playing around town, Hollywood, Hallandale, everywhere we could. We'd go up the coast. We could make a living playing music in Florida! It was odd, because when we moved to L.A. that was not the case at all.
One of the Kids' shows was their appearance in 1980 at the John Lennon Memorial Concert in Miami's Bayfront Park. Also on the bill that day, the Reactions were up first and thoroughly pissed off the audience by refusing to play anything resembling peace-and-love tunes. They instead delivered a noisy, rambunctious, typical Reactions set, refusing to compromise for the occasion. The Kids went on next and soothed the crowd by catering to what they wanted: a bunch of well-played Beatles songs.
Also in 1980, the Kids reached the finals of the Rising Stars battle-of-the-bands competition at the Agora. Local rockers Freewheel ultimately won the night, but the Reactions and the Kids were both heavily favored to take the prize.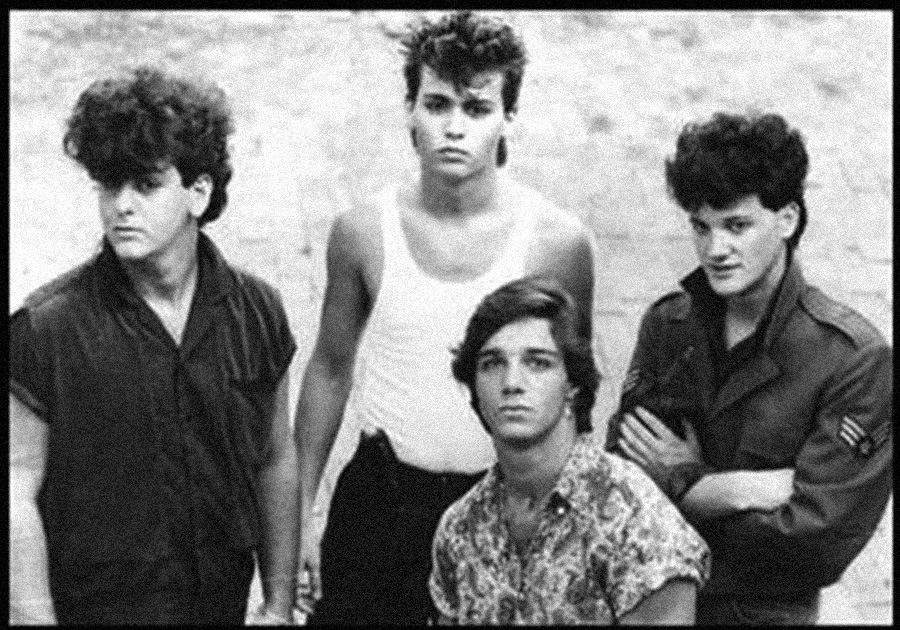 By 1982 the Kids were starting to feel the limits of the local South Florida scene, so they decided to cut a single in the hopes of getting some radio airplay and expanding their reach. The self-financed "I Wanna Be Me" b/w "Time to Explain" 7-inch was released on Aria Records. Open Books and Records kept the single stocked by ordering at least 50 copies, recalls Open Records founder Leslie Wimmer.
Bruce Witkin: When Johnny joined, things got to the peak of what they could be. So we just decided it's time to get out of Florida because no music business was coming down there... at all. The industry didn't think there was any original rock music there.
On December 1, 1983, the band moved to Los Angeles on the advice of promoter Don Ray and had some modest success under the name Six Gun Method. By the time they arrived, however, the musical landscape had changed. The new L.A. glam metal sounds of Mötley Crüe and Quiet Riot had taken over the Sunset Strip and the radio airwaves. Power pop and new wave were losing their footing.
Bruce Witkin: The band never really broke up. One of the guys went home for a minute, and you know . . . fast forward twenty-five years later and we're playing a reunion show in Florida for my mom (the Sheila Witkin Memorial shows). When we first got to L.A., we heard Mötley Crüe on the radio and we knew we were too late.
Between gigs, guitarist Johnny Depp landed a role in Oliver Stone's 1986 film Platoon. While Witkin and Depp were both going out on casting calls and looking for their break, Depp also started playing guitar in another transplanted South Florida band, the Rock City Angels. Depp had known vocalist Bobby Durango from back in their early club days.
Bobby Durango: My head was not in a good place in those days, I was doing a lot of drugs. And it was Johnny who helped me get off them. I don't even know if he's aware of it or not, but he really helped me.
The Angels had scored a major-label deal and were being whispered around town as the next big thing. Depp contributed writing to the song "Mary," which ended up on their 1988 MCA debut album, Young Man's Blues. However, Depp's next acting gig, on the TV series 21 Jump Street, would take him off the rock 'n' roll path for the next few years. Still, the Kids kept gigging and rehearsing sporadically.

Check out "I Wanna Be Me" and "Time To Explain" by THE KIDS from their sole 7" release in 1982, right here and make sure to PRE-ORDER the Punk Under The Sun - 80s Punk and New Wave in South Florida BOOK, shipping SOON from Hozac Books right HERE..

/